This page is under construction. and is still being written! Please do not edit or alter this page unless you have permission from the pages' author(s), since any unauthorized edits will be reverted. Some minor grammar and spelling fixes are allowed if you find any errors of this type.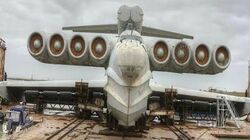 .
The device its self
Edit
.
Planned uses
Edit
A Ekranoplan would also be used in the Soviet invasion of Denmark if they had lived up to expectorations. A hand full of prototypes were made and tested. A planned civil cargo variant was partly built, but never tried out. The civil passenger and military utility versions never got off the drawing board.
Future projects
Edit
Boeing tried a joint venture with the Russians in mid 1990s, but if was unsuccessfully due to political, not corporate issues. American, Ukrainian (until Russia invaded the Dombass region), Chinese, Japanese and Russian firms are trying out various small prototypes for high speed civil use.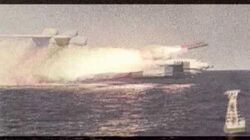 Ad blocker interference detected!
Wikia is a free-to-use site that makes money from advertising. We have a modified experience for viewers using ad blockers

Wikia is not accessible if you've made further modifications. Remove the custom ad blocker rule(s) and the page will load as expected.