FMA IAe 33 Pulqui II.
Category.
Statistic.
First flight on.
1950.
Retired on.
1960.
Major contractor(s) 
Fábrica Militar de Aviones (FMA).
Dose it use nukes or cruse missiles.
No.
Fight ceiling.  
15,000 m (49,213 ft).
Top speed.
1,080 km/h (671 mph; 583 kn).
VTOL.
No.
Range.
3,090 km (1,920 mi; 1,668 nmi).
Crew.
1.
Nationality(s).
Argentine.
Class.
Fighter/Interceptor.
Rate of climb.
25.5 m/s (5,020 ft/min).
Links.
http://aircraft.wikia.com/wiki/FMA_IAe_33_Pulqui_II, http://military.wikia.com/wiki/FMA_IAe_33_Pulqui_II,

http://www.wikiwand.com/en/FMA_IAe_33_Pulqui_II, http://www.aviastar.org/air/argentina/fma_iae-33.php, http://www.airteamimages.com/fma-ia-33-pulqui-ii_IA-X-33_argentina---air-force_143875.html, http://shared-world-info.blogspot.it/2011/03/fma-iae-33-pulqui-ii.html,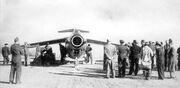 Ad blocker interference detected!
Wikia is a free-to-use site that makes money from advertising. We have a modified experience for viewers using ad blockers

Wikia is not accessible if you've made further modifications. Remove the custom ad blocker rule(s) and the page will load as expected.