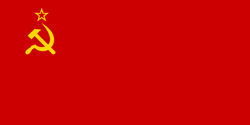 The organisation
Edit
The All-Union Leninist Young Communist League (Russian: Всесоюзный ленинский коммунисти́ческий сою́з молодёжи (ВЛКСМ) About this sound listen (help·info)), usually known as Komsomol (Russian: Комсомо́л, a syllabic abbreviation from the Russian kommunisticheskii soyuz molodyozhi), was the youth division of the Communist Party of the Soviet Union (CPSU) and a political party of the Soviet Union represented in the Supreme Soviet of the Soviet Union. Lenin created it in 1918 and it became a pan-Soviet body in 1922 as part of Soviet unification.
The propaganda magasine organ of the Komsomol, the Komsomolskaya Pravda, survived the organisation and still existed as of 2012. Several former CPSU youth movements, like the Ukrainian communist part's youth wing, are also called "Komsomol". 
Ad blocker interference detected!
Wikia is a free-to-use site that makes money from advertising. We have a modified experience for viewers using ad blockers

Wikia is not accessible if you've made further modifications. Remove the custom ad blocker rule(s) and the page will load as expected.