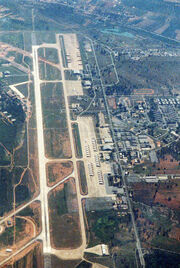 It was involved in the wars in French Indochina. and was obsessive involved in the Vietnam War. With the end of active combat in Indochina on 15 August 1973, the USAF began drawing down its Thailand-based units and closing its bases.
After the departure of the 388th TFW, the USAF retained a small flight of security police at Korat to insure base security and to deter theft of equipment until the final return of the base to the Thai government.
The USAF officially turned Korat over to the Royal Thai Government on 26 February 1976.
Ad blocker interference detected!
Wikia is a free-to-use site that makes money from advertising. We have a modified experience for viewers using ad blockers

Wikia is not accessible if you've made further modifications. Remove the custom ad blocker rule(s) and the page will load as expected.