This page is under construction. and is still being written! Please do not edit or alter this page unless you have permission from the pages' author(s), since any unauthorized edits will be reverted. Some minor grammar and spelling fixes are allowed if you find any errors of this type.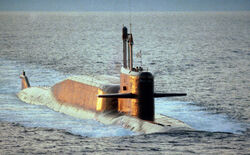 A submarine is a watercraft capable of independent operation underwater. It differs from a submersible, which has more limited underwater capability. The term most commonly refers to a large, hollow, crewed and autonomous vessel.
Ad blocker interference detected!
Wikia is a free-to-use site that makes money from advertising. We have a modified experience for viewers using ad blockers

Wikia is not accessible if you've made further modifications. Remove the custom ad blocker rule(s) and the page will load as expected.