IMPORTANT:This page has used CC-BY-SA content from Wikipedia in either a refactored, modified, abridged, expanded, built on or 'strait from' text content!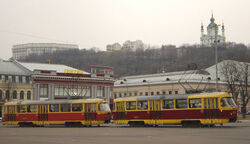 Tatra trams T3 and variant trams.

| Statistic. | Data. |
| --- | --- |
| Nationality. | Czechoslovakian. |
| Manufacturer. | Tatar Trams, a sub-division of the bigger Czechoslovakian engineering firm ČKD (Českomoravská Kolben-Daněk). |
| Made in. | 1960-1999 (narrower prototypes were made in 1958 and other more electrically efficient variants were issued in 1961). |
| Retired in. | Still in use. |
| Weight. | 16t. |
| Top speed. | 65 km/h. |
| Length. | 14,000 mm (45 ft 11 in). |
| Power source. | N\A low voltage overhead power lines (750v for T4 variants in Romania). |
| Crew. | 1. |
| Passengers. | 23 seated + some standing. |
| Railway\tram track gauge. | 1,435 mm (4 ft 8 1⁄2 in), 1,000 mm\(3 ft 3 3⁄8 in), 1,524 mm (5 ft). |
| Tractive effort. | N/A. |
| Sources. | https://www.wikiwand.com/en/%C4%8CKD_(company), https://www.wikiwand.com/en/Tatra_T3, http://byznys.ihned.cz/c1-49833350-novy-model-tramvaji-porsche-je-nejporuchovejsi-ze-vsech-kazda-sedma-stoji, https://en.wikipedia.org/wiki/Tatra_T4, http://tramwaj.wikia.com/wiki/Tatra_T3, http://trams.wikia.com/wiki/Tatra_T3 and https://commons.wikimedia.org/wiki/Tatra_trams. |
It is noted that well maintained tramcars of this type are very reliable, a late 2000s survey conducted in Prague tram system has shown 98.9% reliability, best of the Prague tram system fleet. They spread to many other Eastern European cities, especially in Czechoslovakia, the USSR and the GDR. Poland, Hungary and Yugoslavia also got some. The T3SU was delivered from 1963, first to Moscow and later to 33 further Soviet cities.
T3- Czechoslovakia.
T3SU- USSR.
T3SUCS- USSR/Czechoslovakia.
T3D- DDR.
T3YU- Yugoslavia.
T3R- Romania.
T3R.P- Poland and Romania.
The T4 is a narrower variant of the Tatra T3 model.and was exported to supplied to the GDR, the Soviet Union, Romania and Yugoslavia under the names T4D, T4SU, T4R and T4YU, respectively.
Ad blocker interference detected!
Wikia is a free-to-use site that makes money from advertising. We have a modified experience for viewers using ad blockers

Wikia is not accessible if you've made further modifications. Remove the custom ad blocker rule(s) and the page will load as expected.