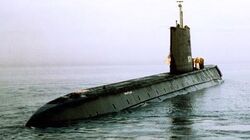 The vessel
Edit
USS Nautilus (SSN-571).

| Category. | Statistic. |
| --- | --- |
| Name. | USS Nautilus (SSN-571), |
| Builder. | General Dynamics, Naval Submarine Base New London, Groton, Connecticut. |
| Nationality. | American, |
| Drought. | N\A, but probably typical of it's class, type and era. |
| Dose it have nukes. | No, |
| Top speed. | N\A, but probably typical of it's class, type and era. |
| Laid down. | 14 June 1952, |
| Launched. | 21 January 1954, |
| Completed. | 22 April 1955, |
| Commissioned. | 30 September 1954, |
| Decommissioned, | 3 March 1980, |
| Range, | N\A, but probably typical of it's class, type and era. |
| Test depth, | N\A, but probably typical of it's class, type and era. |
| Crew, | N\A, but probably typical of it's class, type and era. |
| Armament, | N\A, but probably typical of it's class, type and era. |
| Displacement, | N\A, but probably typical of it's class, type and era. |
| Struck, | 3 March 1980 and is now a museum ship. |
| Power source, | Nuclear. |
| Sensors and processing systems, | N\A, but probably typical of it's class, type and era. |
| Installed power: | N\A, but probably typical of it's class, type and era. |
| Sources, | http://www.ussnautilus.org/events/panopo50th/puc.html, https://web.archive.org/web/20090204062318/, http://www.ussnautilus.org/events/panopo50th/puc.html, http://www.amtrac.org/1atbn/Commendations/description/PUC.asp, http://www.ussnautilus.org/nautilus/, http://en.wikipedia.org/wiki/USS_Nautilus_(SSN-571), http://www.subguru.com/nautilus571.htm and http://www.ussnautilus.org/nautilus/. |
It was sponsored by: Mamie Eisenhower.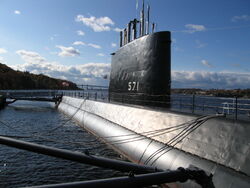 USS Nautilus (SSN-571) was built in the USA by General Dynamics between 1952 and 1955. It was the world's first operational nuclear-powered submarine, unlike the few earlier Soviet and American test models. The vessel later went on to be the first submarine to complete a submerged transit to the North Pole and the successfully surfacing through the polar ice. It is now a museum ship.
Submerged transit to the North Pole
Edit
America was becoming increasingly concerned by the Soviet's numerous technological advances and knew that something had to be done to stop them becoming technologically dominant. A then frightened President Dwight D. Eisenhower ordered that the US Navy was to commission a specialist submarine that was to attempt a underwater/ice transit of the North Pole to gain credibility for the soon-to-come SLBM weapons system in response to the potential nuclear ICBM threat posed by Sputnik's class of launch rocket. The vessel went on to be the first submarine to complete a submerged transit to the North Pole and the successfully surfacing through the polar ice once it got there on 3 August 1958. It is now a museum ship in the USA.
This helped to prove America's underwater navel prowess at the time and the ability of humans to get anywhere they wanted to given the right technology and skills.
Other missions
Edit
They included going to the Atlantic and conducting evaluation tests for ASW improvements, participating in NATO exercises, the 1962 naval quarantine of Cuba and a two-month Mediterranean tour in August 1963.
Presidential Unit Citation
Edit
"For outstanding achievement in completing the first voyage in history across the top of the world, by cruising under the Arctic ice cap from the Bering Strait to the Greenland Sea.
During the period 22 July 1958 to 5 August 1958, USS Nautilus, the world's first atomic powered ship, added to her list of historic achievements by crossing the Arctic Ocean from the Bering Sea to the Greenland Sea, passing submerged beneath the geographic North Pole. This voyage opens the possibility of a new commercial seaway, a Northwest Passage, between the major oceans of the world. Nuclear-powered cargo submarines may, in the future, use this route to the advantage of world trade.
The skill, professional competency and courage of the officers and crew of Nautilus were in keeping with the highest traditions of the Armed Forces of the United States and the pioneering spirit which has always characterized our country."
Ad blocker interference detected!
Wikia is a free-to-use site that makes money from advertising. We have a modified experience for viewers using ad blockers

Wikia is not accessible if you've made further modifications. Remove the custom ad blocker rule(s) and the page will load as expected.