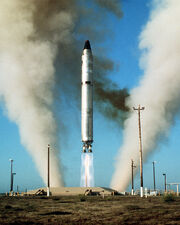 Space rockets and ICBMs
Edit
The base has both atomic missile and space facilities.
It also has a atomic missile launch site. The Wing's personnel also support the Air Force's Minuteman III Intercontinental Ballistic Missile Force Development Test and Evaluation program.
Space rockets 
Edit
The first space mission, flown on December 18, 1999, launched the Terra satellite. Vandenberg SLC-3E is one of it's 4 space rocket launch sites.
James Bond
Edit
A space shuttle full of US Space Marines was launched from Vandenberg Air Force Base in the James Bond film Moon Raker.
Name sakes
Edit
Camp Cooke was named in honor of the American Civil War Major General Phillip St. George Cooke. The base is named in honor of former Air Force Chief of Staff General Hoyt S. Vandenberg.
Ad blocker interference detected!
Wikia is a free-to-use site that makes money from advertising. We have a modified experience for viewers using ad blockers

Wikia is not accessible if you've made further modifications. Remove the custom ad blocker rule(s) and the page will load as expected.