IMPORTANT:This page has used CC-BY-SA content from Wikipedia in either a refactored, modified, abridged, expanded, built on or 'strait from' text content!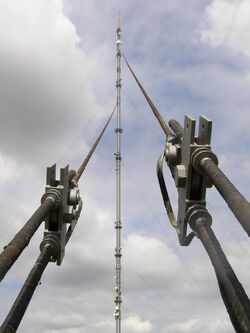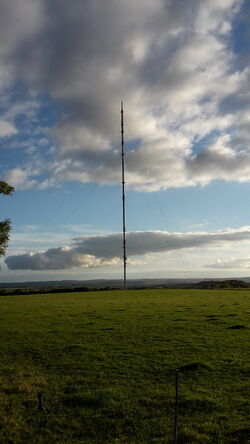 The Waltham transmitting station is a broadcasting and telecommunications facility at Waltham-on-the-Wolds, 5 miles (8 km) north-east of Melton Mowbray. It sits inside the Waltham civil parish near Stonesby, in the district of Melton, Leicestershire, UK. It has a 315 metres (1,033 ft) guyed steel tubular mast. The main structure height to the top of the steelwork is 290.8 metres (954 ft), with the UHF television antennas contained within a GRP shroud mounted on top.
Location- Waltham-on-the-Wolds, Leicestershire.
Mast height- 315 metres (1,033 ft).
Coordinates- 52°48′N 0°48′W.
Grid reference- SK809233.
Built- 1966 (original), 1968 (current).
Collapsed- 1966 (original).
BBC region- BBC East Midlands.
ITV region- ITV Central.
Local TV service- Notts TV.
General history
Edit
Waltham transmitting station collapsed in 1966 and was rebuilt in 1968. There was a baseless local 2002 cancer allegation.
It has never been accused of being used for secret broadcasts during the Cold War.
First structure
Edit
The first mast was built in 1966. On 16 November 1966, it collapsed. Parts of the wreckage are still in use as pig shelters. It had been built by the British Insulated Cables Construction Company. It was to have begun broadcasts in the summer of 1967.
Second structure
Edit
The structure was rebuilt in 1968 by the BBC. This delayed its first transmissions until 31 August 1968 of BBC2 only. It broadcast ITV from February 1970 and BBC1 from August 1970. On 9 April 1970 the whole region lost the signal when an excavator damaged the station's main cable. The mast was one of three similar types built at the same time by the BBC, with Mendip and Bilsdale.
It is a shorter version of the second Emley Moor transmitter which collapsed whilst broadcasting on 19 March 1969, due to the weight of ice on the structural cables. The Waltham mast has four sets of stay levels as opposed to the six of the ex-Emley mast. The latter was identical to the current 385m high Belmont mast, both built by the ITA.
It is east of the A607 between Grantham and Melton Mowbray.
Current transmission services
Edit
Current transmission services.

| Frequency MHz. | Frequency Block. | kW. | Operator. |
| --- | --- | --- | --- |
| 100.5 and or 100.4 MHz? | . | 10? | Rumored in the 1990s to be reserved for emergency use and may still be, if it ever was. |
| 106.6 MHz | . | 10.8 | Smooth Radio |
| 222.064 MHz | 11D | 8.8 | Digital One |
| 225.648 MHz | 12B | 5 | BBC National DAB |
| 227.360 MHz | 12C | 4 | NOW Nottingham |
| 514.000 MHz | 26 | 5 | LTVmux DVB-T |
| 538.000 MHz | 29 | 25 | COM4 (SDN) DVB-T |
| 554.000 MHz | 31 | 10.2 | COM7 (ARQ C) DVB-T2 |
| 602.000 MHz | 37 | 1.4 | COM8 (ARQ D) DVB-T2 |
| 698.000 MHz | 49 | 50 | PSB1 (BBC A)[d 1] DVB-T |
| 737.833 MHz | 54- | 50 | PSB2 (D3&4) DVB-T |
| 754.000 MHz | 56 | 25 | COM5 (ARQ A) DVB-T |
| 762.000 MHz | 57 | 25 | COM6 (ARQ B) DVB-T |
| 770.000 MHz | 58 | 50 | PSB3 (BBC B) DVB-T2 |
The mast was originally built to provide BBC2 (on the new UHF 625 lines system) to the East Midlands. It became the main mast for ITV's Central East Midlands from 1982 and BBC East Midlands from 1991. Previously it had carried broadcasts from Birmingham.
It is now the main TV transmitter for all digital terrestrial channels covering the East Midlands, predominantly including most of Leicestershire, Rutland, Nottinghamshire, Derbyshire and Lincolnshire. It can also be received in parts of Norfolk, Cambridgeshire, Huntingdonshire, Northamptonshire, Warwickshire, Staffordshire and Yorkshire. It is owned and operated by Arqiva.
Analogue television
Edit
Analogue television is no longer transmitted from Waltham. BBC Two closed on UHF 64 on 17 August 2011. ITV1 was moved into its frequency at the time and the BBC A multiplex began transmitting on UHF 61. The remaining four analogue channels were switched off on 31 August.
Digital TV
Edit
Waltham first broadcast digital TV on 15 November 1998. In July 2007 was confirmed by Ofcom that at DSO (Digital Switchover) Waltham would be transmitting five - of the six - MUXes within its original C/D group.
Relay stations
Edit
The two most powerful relays are at Nottingham (just west of the M1 J26) and at Stanton Moor (near Bakewell). The area to the South East of Buxton is the meeting point between the Winter Hill, Emley Moor, Sutton Coldfield, and Waltham broadcasting regions. Further north-west of Bakewell, the filler transmitters are BBC North West, and North-east Derbyshire, east of Tideswell and Hope takes Emley Moor (BBC Leeds).
Waltham's Stanton Moor relay station was Britain's 1,000th television relay station. .
Ad blocker interference detected!
Wikia is a free-to-use site that makes money from advertising. We have a modified experience for viewers using ad blockers

Wikia is not accessible if you've made further modifications. Remove the custom ad blocker rule(s) and the page will load as expected.